Reggie Clark is a dynamic force. A former NFL player, community leader, father, friend and motivated businessman. A year ago when we first met him, he was a shade of the same man he is today. His characteristics were still there, but there was no spark, no true motivation and a visible lag in brain processing ability. Reggie played 8 years in the NFL, 4 in College at UNC-Chapel Hill and many years before that in Charlotte, NC. He sustained multiple concussions over his career, and was misdiagnosed with multiple mental health disorders after his career ended. Reggie came into our office as many people do; referred by a true friend who believed our services could bring back "Old Reggie." For us, this is a normal occurrence, whether the individual presents with a hormonal imbalance, brain function issues (ADHD, Anxiety, Depression, PTSD), problems with sleep, energy level or sexual function. We are happy to say, and you'll see in the ABC story by DaShawn Brown, that the "Old Reggie" is back, and he's here to stay! Click on the picture below to play video: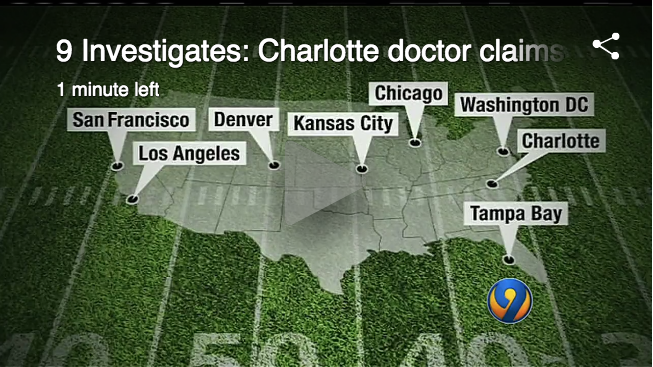 Reggie participated in a one-year, multi-site study of cognitive rehabilitation for former NFL players, of which we are the directors. The data is now complete on 16 former NFL players with Mild Cognitive Impairment and the study is being prepared for journal publication. Players all participated in before & after brain imaging, performance testing, symptom tracking and 24 treatment sessions over a 90-day period. The preliminary results are extremely positive.
Reggie's data has been analyzed and is on track with other participants. Here's a summary of his improvements.
Symptoms:
Out of 16 symptoms tracked and measured on a severity scale of 0-10 (10 being unbearable, 0 being no symptoms), Reggie initially scored a 7/10 or above on 12 categories including sleep disturbance, fatigue, sensitivity to light and sound, poor memory, concentration, mood and more.
At the end Reggie scored a 0/10 in every category that was previously above 7/10. In fact, measured again six-months after treatment was over, showed an 80% improvement over his total beginning symptoms.
Brain Performance:
Objectively measuring higher brain function metrics like attention, memory, processing & motor speed and reaction time allow us to understand how the brain is functioning under multiple tasks. Reggie's performance scores increased 35% from pre-post testing, and maintained a 33% improvement six-months after treatment was over. To understand the true implications of this level of change, this would be akin to taking a college student with a D average, making them a B+ student in half a semester (3 months), and maintaining that B+ average for the next semester without continued assistance.
Brain Imaging:
Reggie's Initial Brain imaging showed signs of functional imbalance, which may be leading to his symptoms. Positive changes were seen at the end of treatment in the form of increased connectivity which held six months after treatment.
Reggie made impressive improvement in a short amount of time, but most importantly his improvements have continued since treatment ended. As heart-wrenching as his original story was, and as inspiring as his new story is, it is not unique even in the small population of former NFL players we have worked with, and it is extremely common for the non-NFL players we have worked with dealing with long-term effects of single or multiple concussions. There is help beyond rest, a dark room and prescription medications to mask individual symptoms.
The same services (and more) that Reggie received during this study are available to anyone who has symptoms from previous concussions or other issues such as ADHD, Depression, Anxiety, Memory Loss, Fatigue, Low Libido, Lack of Energy or more. Call one of our experts today and find out if we may be able to provide the help you have been looking for!